LIC IPO – Know The Company
LIC IPO 2022 is India's biggest-ever IPO and the fourth-biggest IPO of any insurer globally. Along with being an LIC policyholder, you can now also become an investor of India's largest life insurance company. But before investing, do you know the company well enough? Here's a quick low-down about LIC:
Since its inception in 1956, Life Insurance Corporation of India (LIC) has donned many hats. From being a part of an individual's financial planning to bailing out distressed companies, it has been the go-to saviour for many Indians as well as the government.
LIC Financials Status
FY19
FY20
FY21
Rs Crore
Total Assets
3,366,335
3,414,175
3,746,404
Net Premium
339,972
382,476
405,398
Net Profit
2,627
2,710
2,974
Strengths
Omni-channel presence through agents (13 lakh), bank partners, brokers and digital channel
Its NBP, i.e. the premium received from new policies in a year, grew at a CAGR of 13.5% between FY19-21
Largest asset manager in India with ₹39 lakh crore assets under management, as of September 2021
Low expense ratio of 8.7% in FY21 compared to the top five private players' average of 11.9%
Risks
Insurance claims by death increased during the pandemic and the risks persists for such events in the future
Faces significant competition from private players like HDFC Life and ICICI Pru Life, which are gaining market share
LIC's market share has dropped from 66.4% in FY19 to 63.6% in first half of FY22
Lockdowns impacted distribution partners like agents' ability to sell products
May need to infuse funds in IDBI Bank, in which it's a majority stakeholder

Good to know
India's fast growing insurance sector is highly underpenetrated. This provides huge potential for growth despite the rising competition. Between FY21-26, India's new business premium is expected to grow at CAGR of 17%-18% to ₹6 lakh crore. Being a dominant player in the industry, LIC could benefit from this growth.
Do you have an LIC policy?
If you have bought an LIC policy on your name before 13th February 2022 and have linked it to your PAN before 28th February 2022, you are eligible to apply under the 'LIC policyholders' category for the LIC IPO and enjoy the following benefits:
10% allotment benefit
Discount on floor price
Apply for an IPO under the 'LIC policyholders' category?
Did you know?
Policyholders can apply under the 'LIC policyholders' and also under the 'All investors' category.
Apply for the LIC IPO under the 'All investors' category?
The LIC is launching India's biggest IPO and to apply for it one needs to have a Demat account. With Investmentsahihai you can open a Demat account online in a few minutes with just few documents. Once the IPO is LIVE, you can apply for it with us.
What is pre-apply?
Pre Applying for an IPO is a way to apply for IPOs in advance before they go live.
Once the IPO goes live, you need to accept the payment mandate on your UPI to complete the entire IPO bid process.
Got queries? Call us.
For any LIC IPO related queries, contact us on any of the following options on any day of the week from 9:00 AM to 6:00 PM:

Sunrise Building, Prithviraj Road, C-Scheme, Jaipur
+91 94140 70633
News corner
Policyholders need to link PAN to LIC policy by 28 February (ET)
LIC IPO may help govt achieve disinvestment target (Indian Express)
LIC woos big-ticket global investors for its IPO (ET)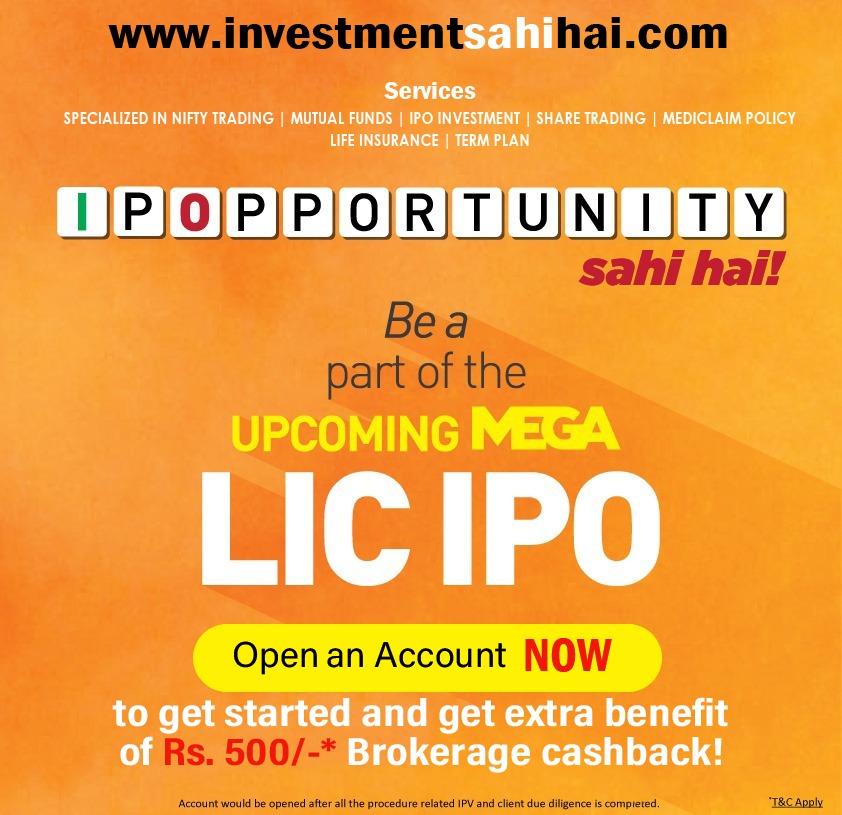 LIC IPO – Frequently Asked Questions
Need more help? Here's what others are also curious about.
How can you pre-apply for LIC's IPO?
Pre-applying for LIC's IPO means applying for this public issue before it goes live. However, pre-apply for LIC's IPO isn't open currently.
When does pre-apply for LIC's IPO open and how can you pay for it?
The pre-apply for LIC's IPO will begin two days before its launch date. After pre-applying, once the IPO goes live, you will receive a UPI mandate. Accept this to block the IPO application amount and successfully place your bid.
How can you apply for LIC's IPO? 
You can apply on Upstox's website and app, once the IPO opens for a subscription.
If I am a policyholder, will I get preferential allotment in the IPO?
Yes, upto 10% of the LIC IPO issue size will be reserved for policyholders. It is also expected that allotment would be at a discounted rate.
Will there be different purchase options for policyholders, employees and investors during the LIC IPO?
In the "Investor type" section, you can choose to apply as an individual, policyholder or an employee. You can place a bid for each category based on the type of investor you are.
When does LIC's IPO open and close for the subscription?
The dates for LIC's IPO haven't been announced yet.
What's the lot size and minimum investment needed for LIC's IPO?
The details about the lot size haven't been announced yet.
What is the price band for LIC's IPO?
The price band for LIC's IPO isn't available currently.
What's the size of LIC's IPO?
The size of LIC's IPO has not been announced yet.
How many bids can I place for LIC's IPO?
You can place up to three bids for an application.
Can these bids be placed at different times during the IPO subscription period?
No, the bids have to be placed at one go. If you want to add an additional bid, then you would have to delete your application and reapply.
When will LIC shares be credited to your demat account? 
The date for crediting of shares to the demat account has not been announced yet.
Which exchanges will LIC list on?
This has not been announced yet.
When will LIC list on the exchanges?
The listing date has not been announced yet.
What is the expected opening date for LIC IPO?LIC IPO is expected to open for subscription in the current financial year itself, by the end of March 2022. In the Union Budget 2022, Finance Minister Nirmala Sitharaman had announced that the mega IPO is expected to be launched shortly. The IPO is expected to enter the primary markets in mid of March this year. However, there is no specific date yet finalised for the launch of the IPO. In the public offering, LIC policyholders will benefit as they are likely to receive a 5% discount on the price band for the shares put up for sale in the IPO.
Still got queries? Call us.
For any LIC IPO related queries, contact us on any of the following options on any day of the week from 9:00 AM to 6:00 PM:
Sunrise Building, Prithviraj Road, C-Scheme, Jaipur
+91 94140 70633